Model Route and Whole Map
【 1day 】
1. Himeji-jo Castle World Heritage Site and National Treasure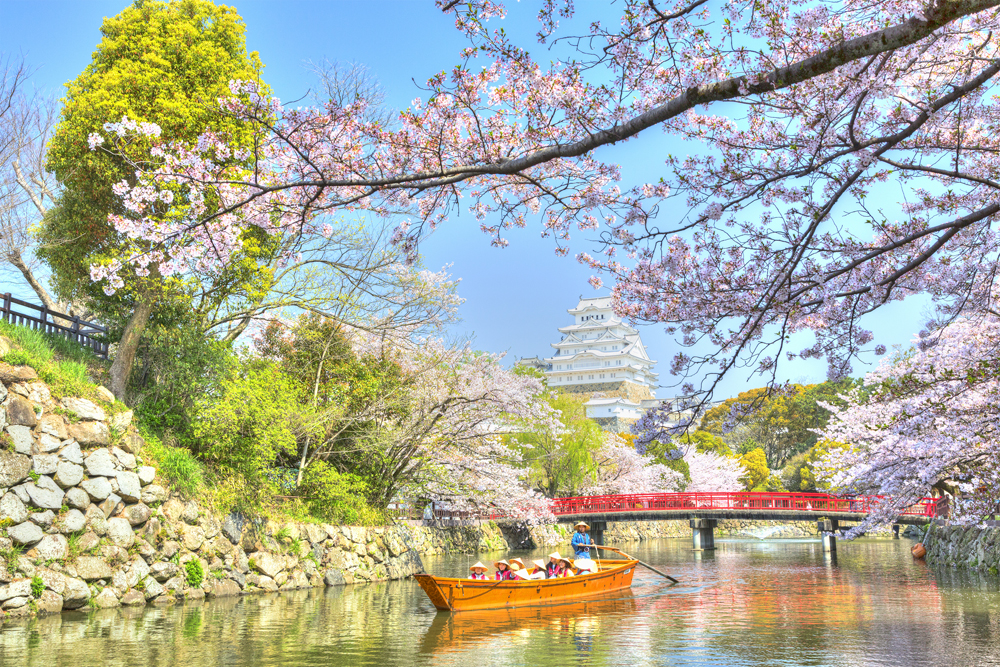 Beginning as a fort some 600 years ago, Himeji Castle was built 400 years ago and remains the symbol of Himeji City. The castle includes numerous national treasures, important cultural properties, and legends. With the conclusion of a large-scale renovation project in 2015, Himeji Castle was restored to its former brilliant white glory. Often compared to an egret taking flight from the water's surface, Himeji Castle is also known as Shirasagi-jo ("White Heron Castle") and is one of the most beautiful castles in all of Japan.
68 Honmachi, Himeji City 670-0012
Tel.: +81-79-285-1146
URL: http://www.city.himeji.lg.jp/guide/castle/ 
Hours: [Apr. 27 - Aug. 31 Gate Hours] 9:00 am - 4:00 pm
[Sep. 1 – Apr. 26 Gate Hours] 9:00 am - 5:00 pm
2. Himeji Monorail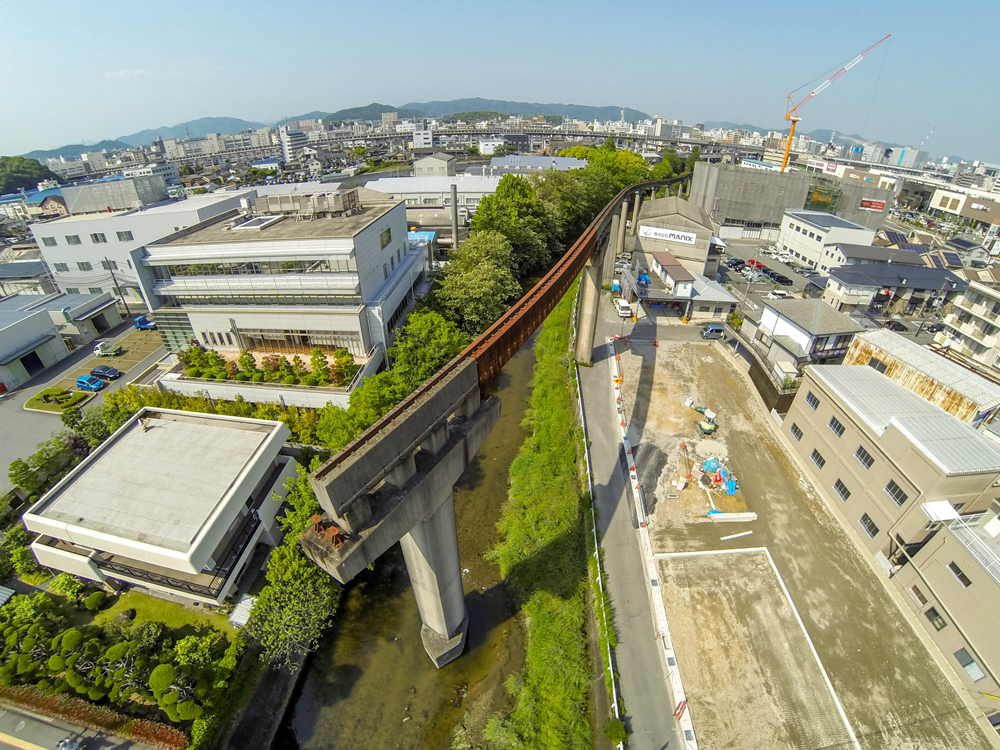 The now defunct Himeji Municipal Monorail once provided services between Himeji Station and Tegarayama Central Park's Tegarayama Station in Himeji City, Hyogo. Daishogun Station on the former Himeji Municipal Monorail Line is open to the public.
3. Lunch at Mochimugi-no-Yakata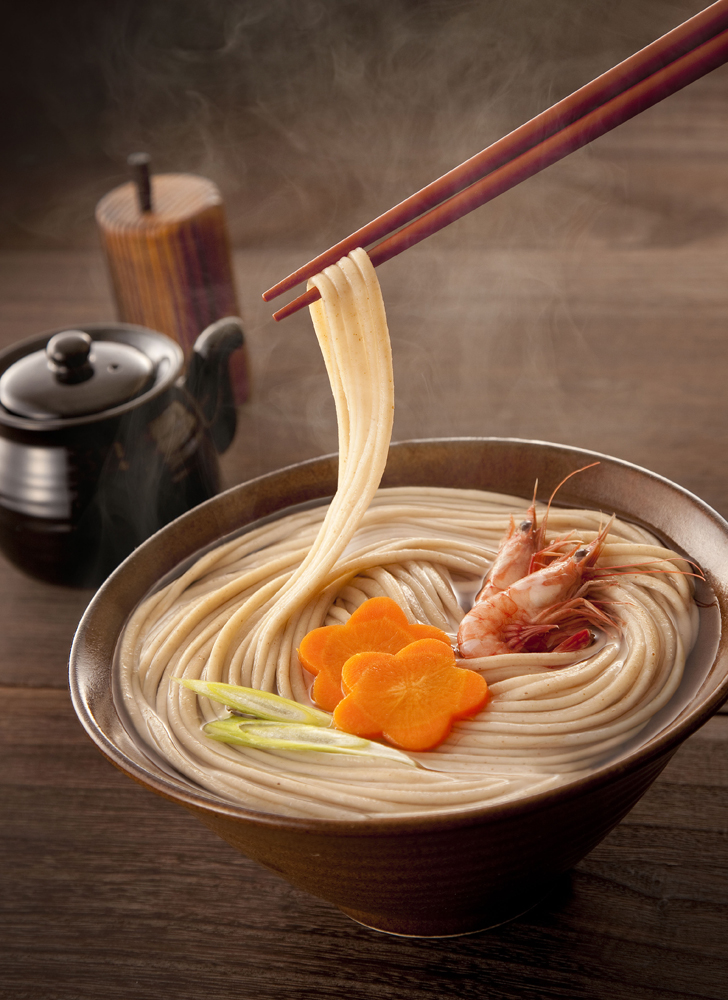 Mochimugi barley is a Fukusaki Town specialty with a unique texture and flavor. At Mochimugi-no-Yakata, visitors are welcome to try this delicacy and to purchase souvenirs at the souvenir shop.The family-friendly menu has something for everyone with set meals including the Gin no Bashamichi Gozen or a la carte items.1022-4 Nishitawara, Fukusaki Town, Kanzaki District 679-2204 / Tel.: +81-790-23-1500 
Hours: 11:00 am – 5:00 pm / Closed: Mondays
URL: http://www.mochimugi.jp/
4. "Miki-ke" Village Official's Residence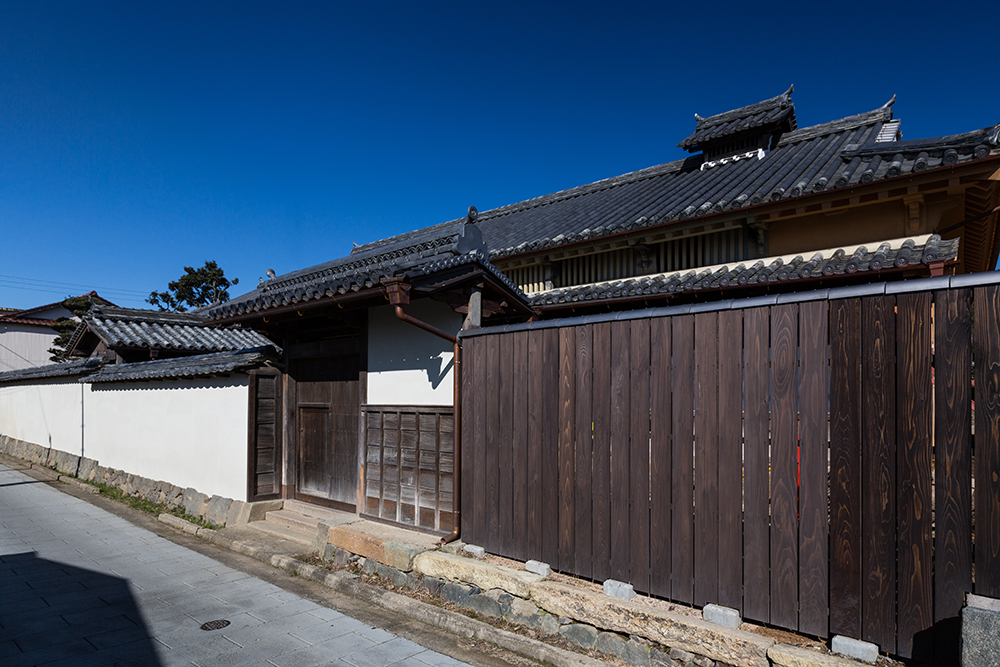 As the village official's residence for the Himeji Clan, the Miki family residence was the political and cultural center of the region. In 1972, the residence was designated an Important Intangible Prefectural Folk Cultural Property of Hyogo, and in 2004 the residence came under municipal ownership as property of Fukusaki Town.
1106 Nishitawara, Fukusaki Town, Kanzaki District 679-2204 / Tel.: +81-790-23-0033
URL: http://www.town.fukusaki.hyogo.jp/html/mikike/
5. Gataro and Gajiro the Kappa and other Tengu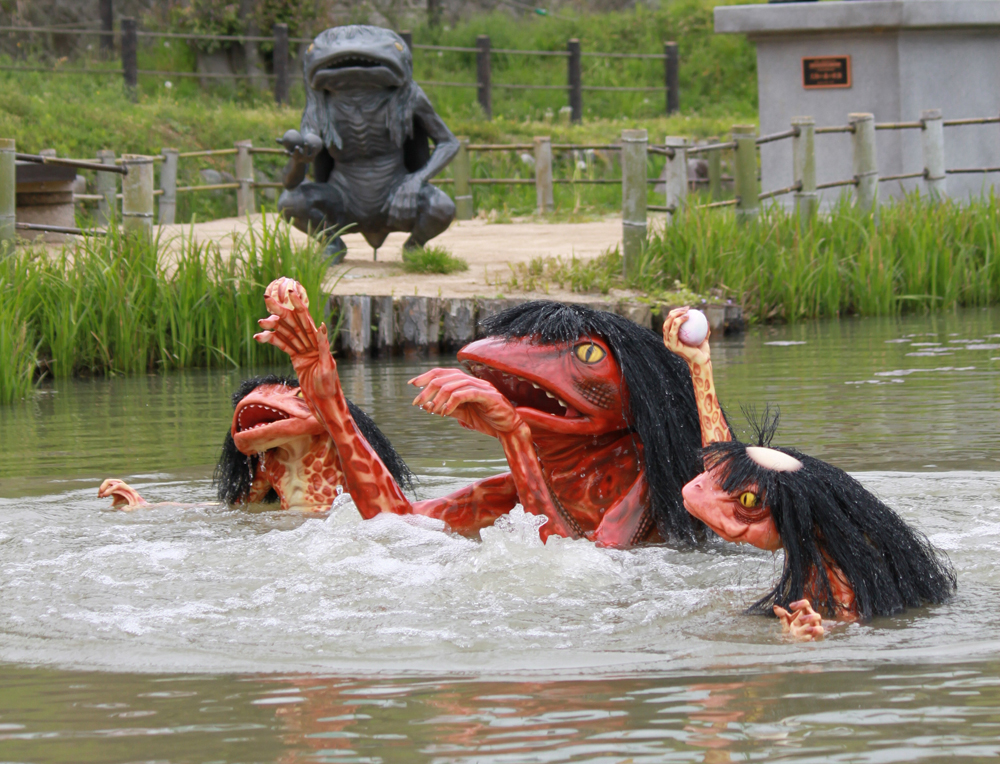 These two kappa (demons in Japanese folklore)—named Gataro and Gajiro—appear in the pond inside Tsujikawayama Park. Gajiro makes regular appearances from beneath the water of the pond itself. Visitors can also catch a glimpse of the upside-down tengu (Japanese goblin) holding a bean jam-filled pancake—a local specialty—peeking out from the small cabin some 3 m above the ground.Nishitawara, Fukusaki, Kanzaki District 679-2204 / Tel.: +81-790-22-0560 (Fukusaki Town Tourism Association)
URL: http://www.fukusaki-tabigaku.jp/kankou/kappa.html
6. Fukumoto Historical Site (Pit-House)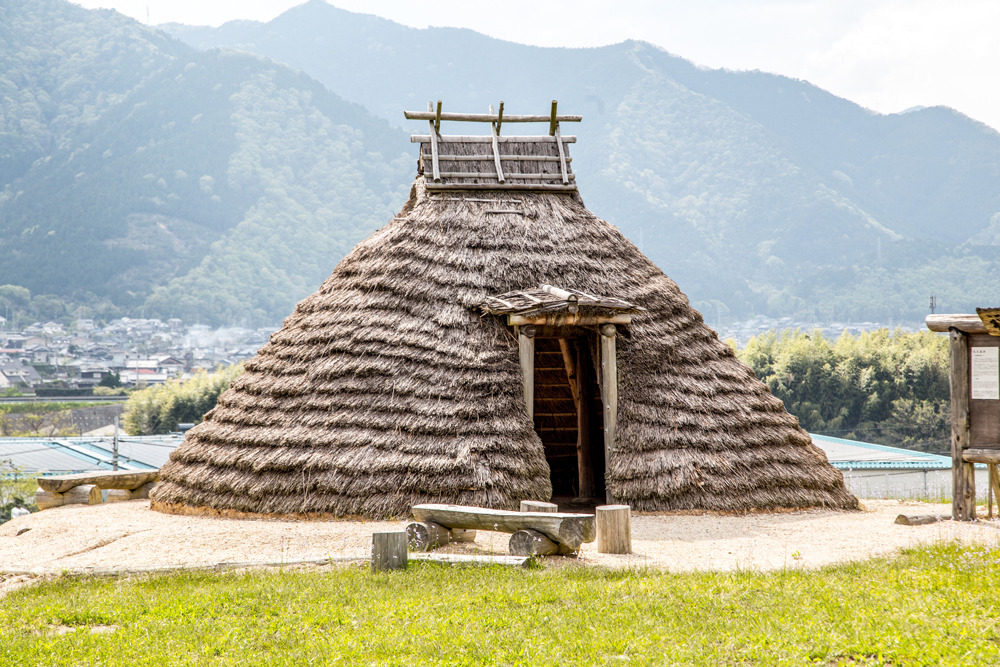 The Fukumoto Historical Site is regarded as one of Hyogo Prefecture's most important and unique archeological site with history that spans from the Japanese Paleolithic period more than 10,000 years ago through the Nara Period. Artifacts that have been discovered at the site include stoneware from the Japanese Paleolithic period, pottery adorned with pressed patterns from the early Jomon Period, evidence of a pit-house from the mid Yayoi Period and a square pit-house in the late Kofun Period, and tile kiln remnants from the Hakuho and Nara periods. Of particular note is the pottery adorned with pressed patterns from the early Jomon Period, as very few similar artifacts have been discovered, making the Fukumoto Historical Site an important part of Jomon history.

Fukumoto, Kamikawa Town, Kanzaki District 679-2415
7. Tonomine Kogen Highlands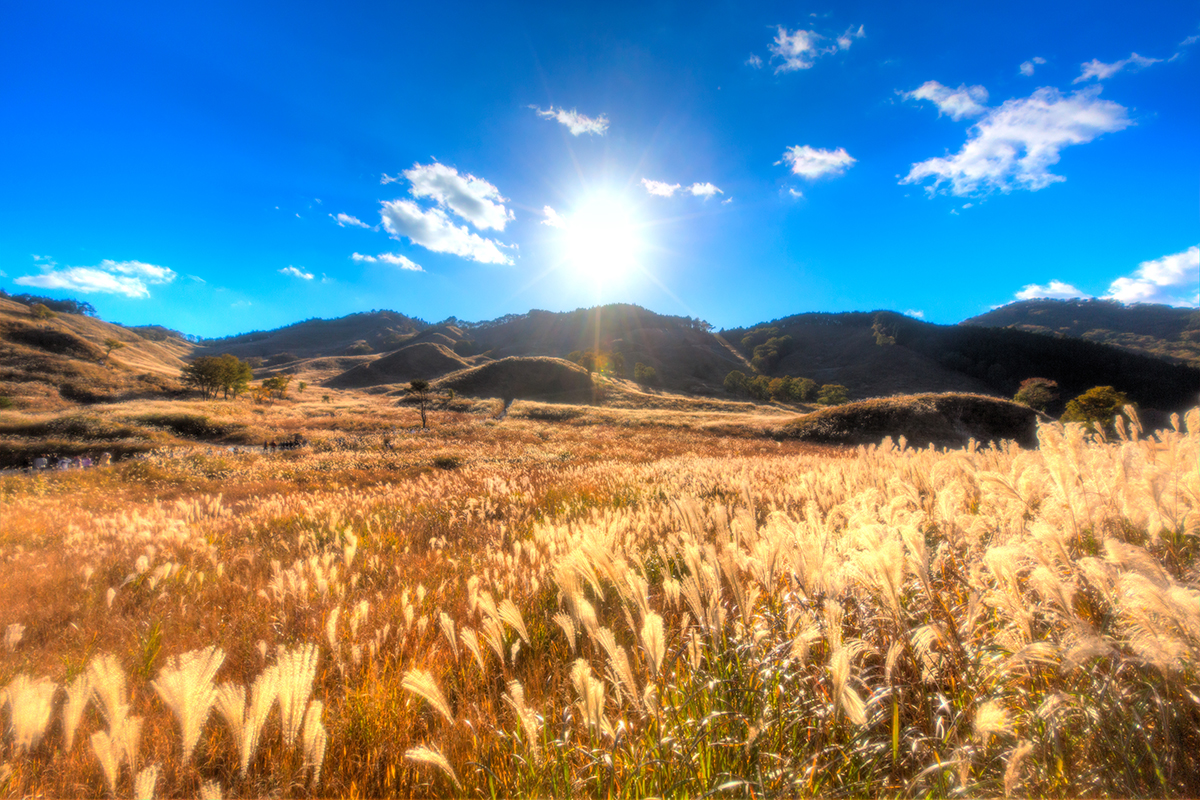 The Tonomine Kogen Highlands is an area covered with susuki grass. Spread across some 90 ha, the highlands offer an encompassing view of bright, fresh greenery from late spring to early summer, rolling golden fields of susuki grass in fall, and a pure-white snowscape in winter. Such spectacular scenery has made Tonomine Kogen Highlands a popular filming location for various films and television shows, including the films "Norwegian Wood" and "Nobunaga Concerto" as well as the Taiga drama "Gunshi Kanbei." During peak susuki grass season, a direct bus will be available from JR Bantan Line's Teramae Station. (Reservation required)
801 Kawakami, Kamikawa Town, Kanzaki District 679-3104 / Tel.: +81-790-31-8100 (Tonomine Nature Exchange Center)
8. Izutsuya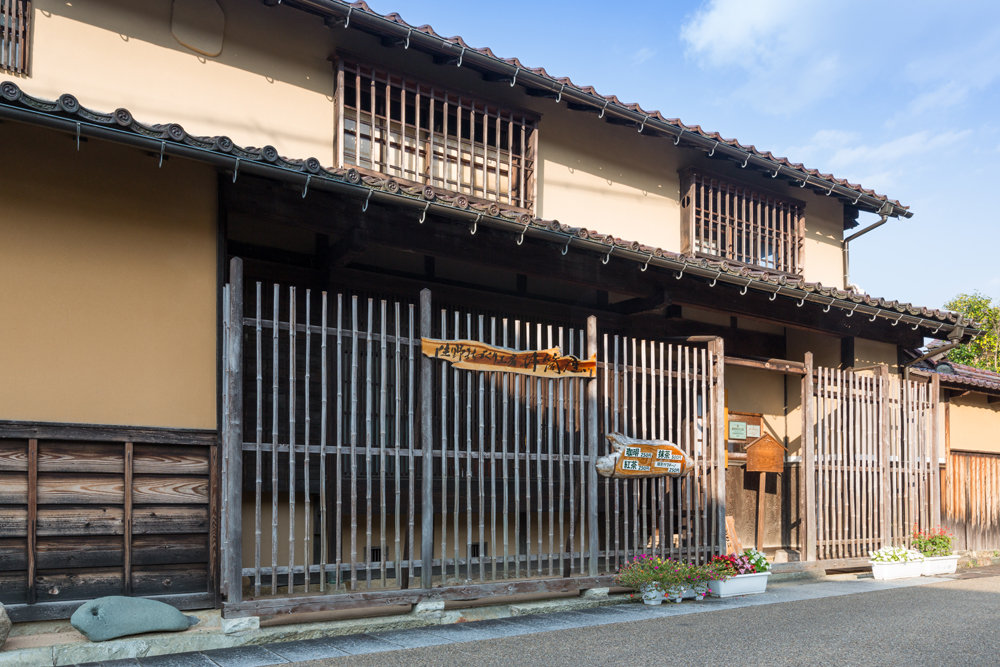 Occupying a building built in the Edo Period, "Izutsuya" acts as both a hub for town development and as a rest area for weary travelers. Within, visitors will join a guided tour of the town or enjoy a relaxing environment where they can also take a tea break. Izutsuya offers a warm environment where visitors can learn more about the area and its people.
640 Ikuno-cho Kuchiganaya, Asago City 679-3301 / Tel.: +81-79-679-4448
9. Kuchiganaya Ginzan Town Museum Center
The Kuchiganaya Ginzan Town Museum Center is located in maintained family residences that belonged to the Asada and Kikkawa families, both with deep ties to the history of Ikuno. The Museum Center includes a "hospitality cafe" featuring homemade foods on the first floor and gallery exhibits in the storehouse.
619-2 Ikuno-cho Kuchiganaya, Asago City 679-3301
10. Former Official Residences of Ikuno Silver Mine / Takashi Shimura Memorial Hall, Asago City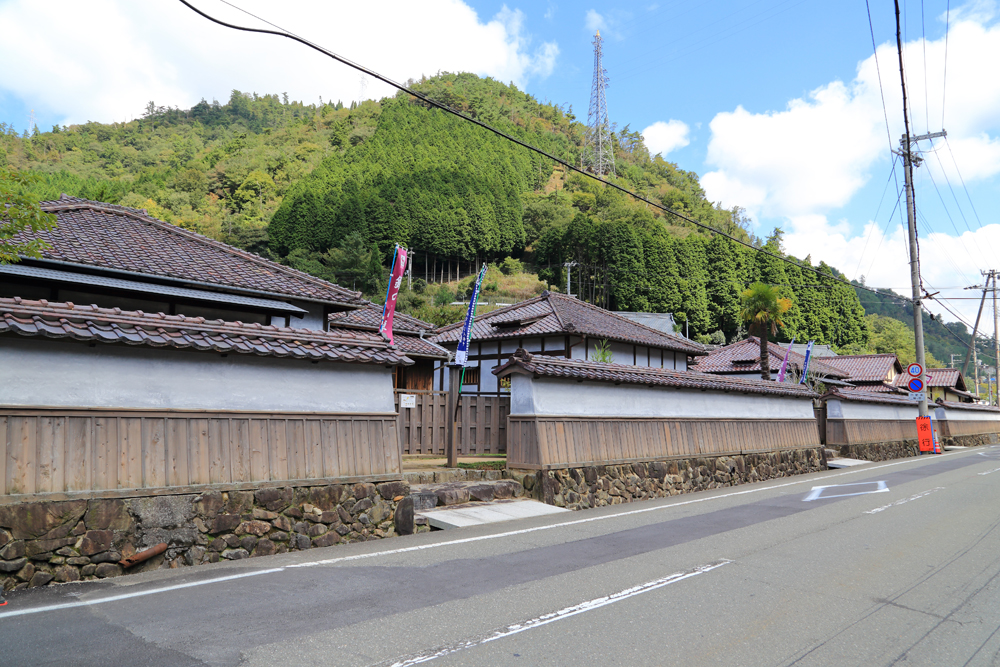 In Ikuno-cho Kuchiganaya, visitors can find four company houses used as residences by mine officials. These buildings, known as "Koshataku," were the first of their kind to be used in Japan. Designated a cultural asset of Asago City, the residences include baths, ovens, and fittings to offer a glimpse of how lifestyles have changed throughout the Meiji, Taisho, and Showa periods. Visitors will also find a memorial hall dedicated to Takashi Shimura, an actor who appeared in many movies directed by Akira Kurosawa and who spent his childhood in company housing.
697-1 Ikuno-cho Kuchiganaya, Asago City 679-3301 / Tel.: +81-79-670-5005
11. Trolley truck tracks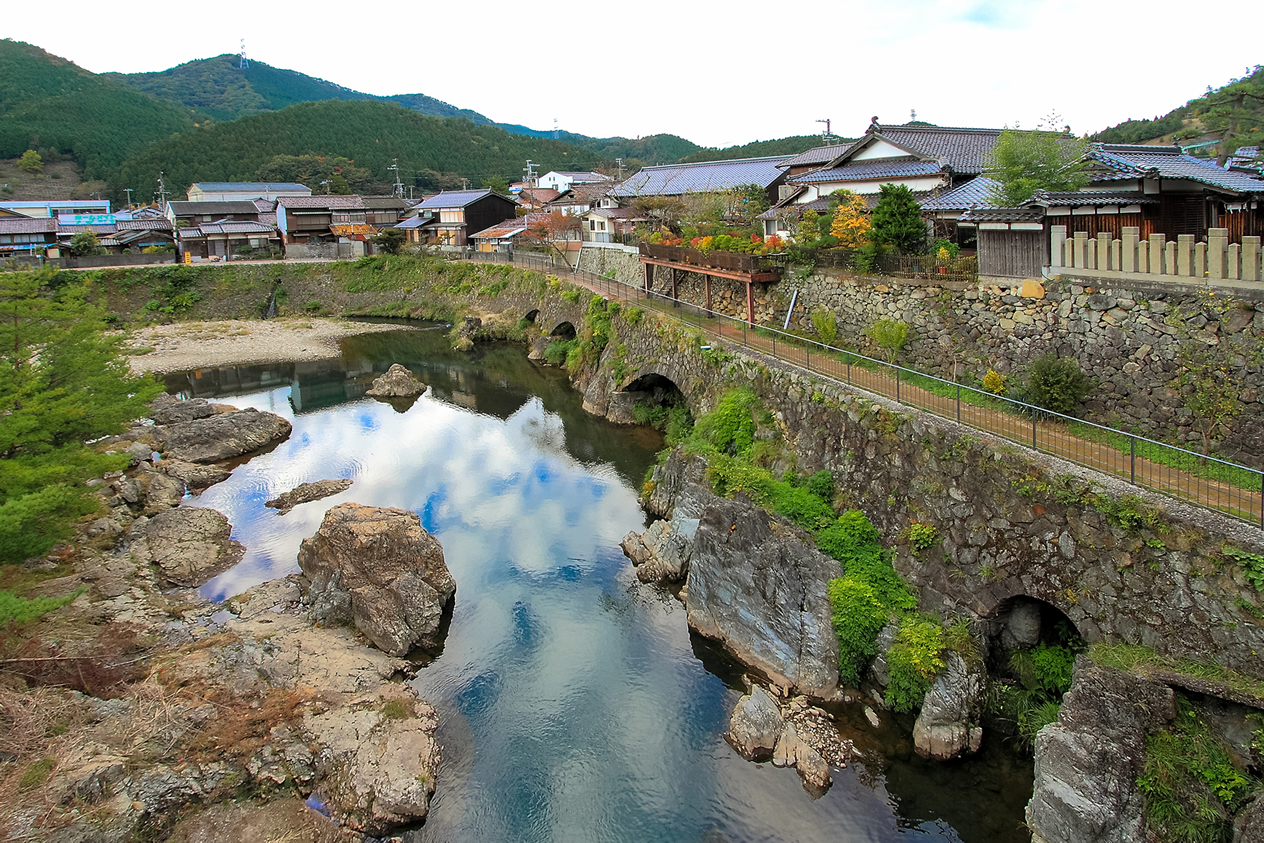 Built in 1920 for the transportation of ore and goods between the Ikuno Mine headquarters and branch office (the former Ikuno Station), remnants of the mine cart tracks can still be seen today on the right-hand bank of the Ichikawa River near Himemiya-jinja Shrine. The mine cart tracks along the Ichikawa River were made with stones from the stone wall of the Ikuno magistrate's office and included continuous arches highly valued among experts as an important part of civil engineering history.
Ikuno-cho Kuchiganaya, Asago City 679-3301
12. Rest at Boesch Cafe, Ikuno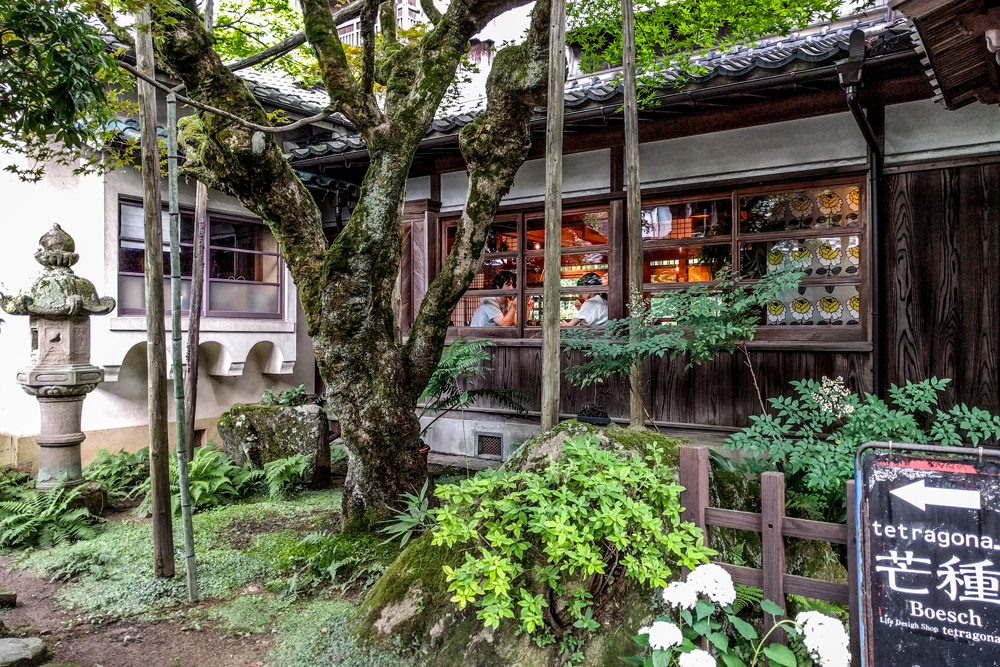 Boesch Cafe and Gift Shop is located inside an old private home.The use of seasonal ingredients makes Boesch a popular destination where the season is part of the attraction.The warm, eclectic building was built in the early Showa Era and renovated almost completely by the owners for an appealing modern feel with an attractive courtyard serving as the highlight. Stop by and enjoy a peaceful, relaxing time.
600 Ikuno-cho Kuchiganaya, Asago City 679-3301 / Tel.: +81-79-679-2299
Hours: 11:00 am – 7:00 pm / Closed: Tuesdays, third Monday of the month
URL: http://tetragona.exblog.jp/ 
13. Ikuno Silver Mine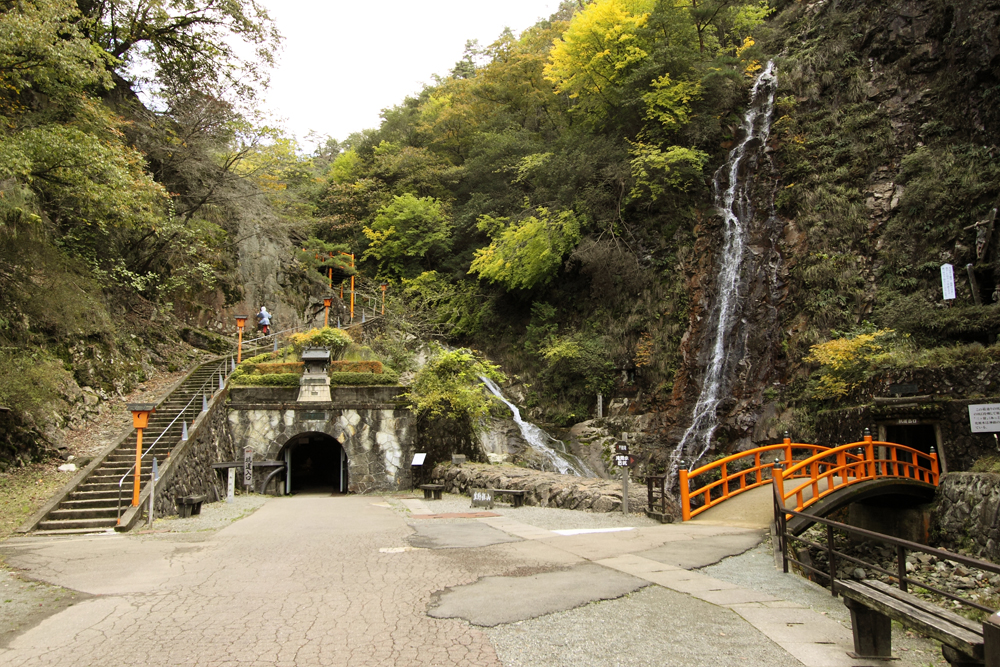 The Ikuno Silver Mine facility complex offers visitors a chance to tour one of Japan's major silver mines. From walking through tunnels to visiting more modern mining sites and open-air digging sites, the mine offers numerous interesting sights. The mine also includes an informative museum area. From children to adults, there's plenty to enjoy.
33-5 Ikuno-cho Kono, Asago City 679-3324 / Tel.: +81-79-679-2010
URL: http://www.ikuno-ginzan.co.jp/
14. Kurokawa Dam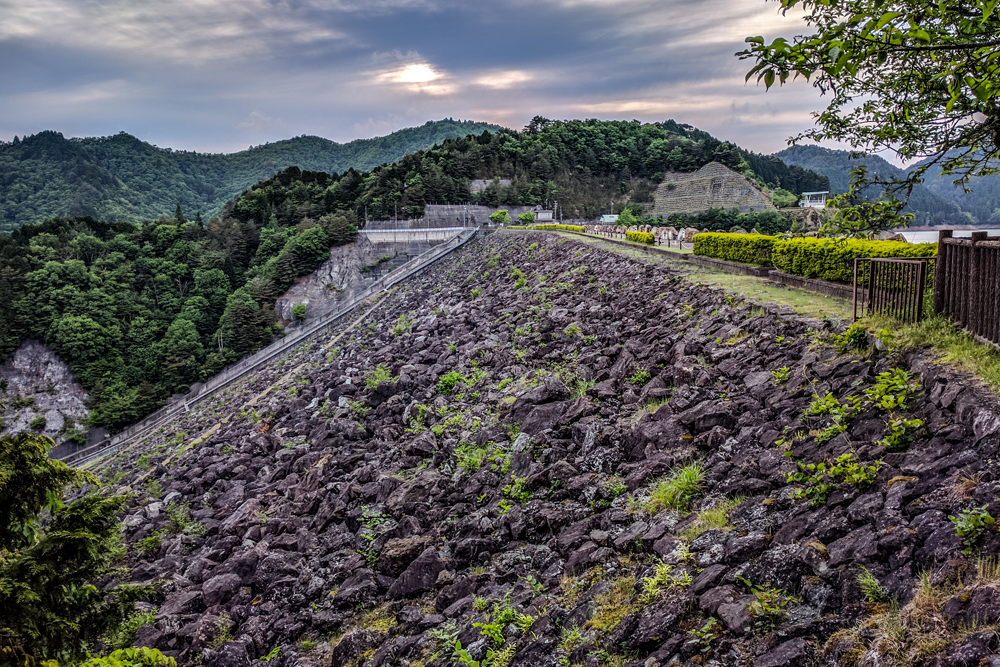 Kurokawa Dam is part of the mountain-based Okutataragi Pumped Storage Power Station, Japan's largest pumped-storage power station with six generators. This rock embankment dam is a breathtaking sight featuring stones stacked to a height of 98 m.
Kurokawa Honmura, Ikuno-cho, Asago City 679-3341
15. Overnight Stay at Harima Fureai-no-Ie
The Harima Fureai-no-Ie lodging facility offers guests a warm sense of security similar to returning to one's hometown.With a landscape that varies with every season and delicious cuisine made with local ingredients, guest will be treated to a relaxing, restful stay.
1244 Tataragi, Asago City 679-3423 / Tel.: +81-79-678-1481
URL: http://harimafureai.com/
【 2day 】
1. Breakfast at Panca Bakery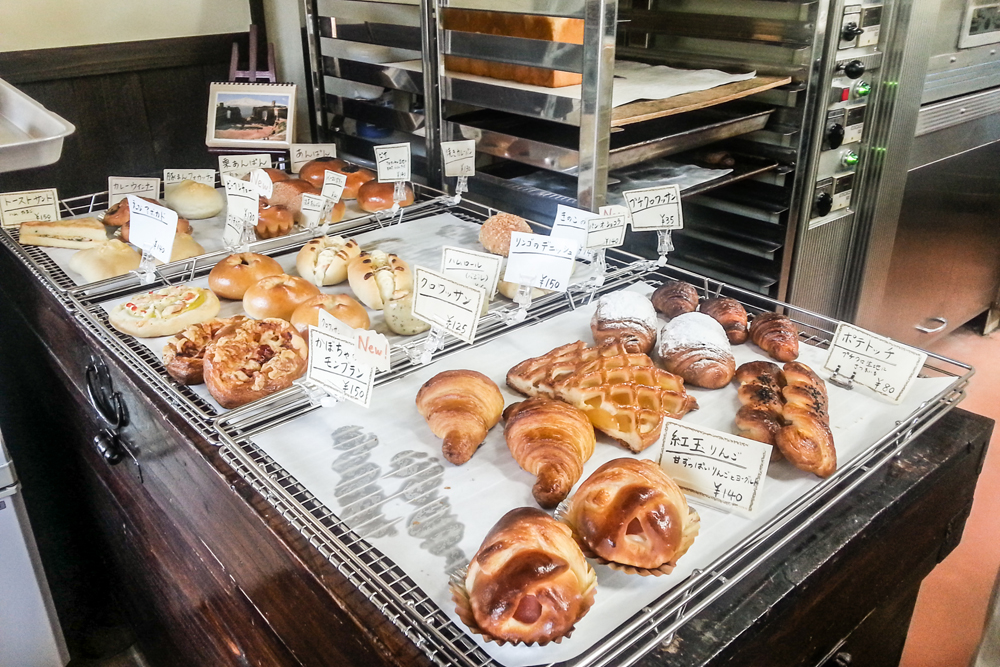 Located in a renovated traditional house built 100 years ago, Panca offers delicious fresh-baked bread.With more than 10 types of bread available, visitors are hard-pressed to decide what to try.The early opening hours mean Panca is a popular destination for locals and tourists alike.
2028 Ikuno-cho Kuchiganaya, Asago City 679-3301 / Tel.: +81-90-9888-2515
Hours: 7:30 am – 6:30 pm / Closed: Mondays, third Sunday of the month
2. Mikobata Cast Iron Bridge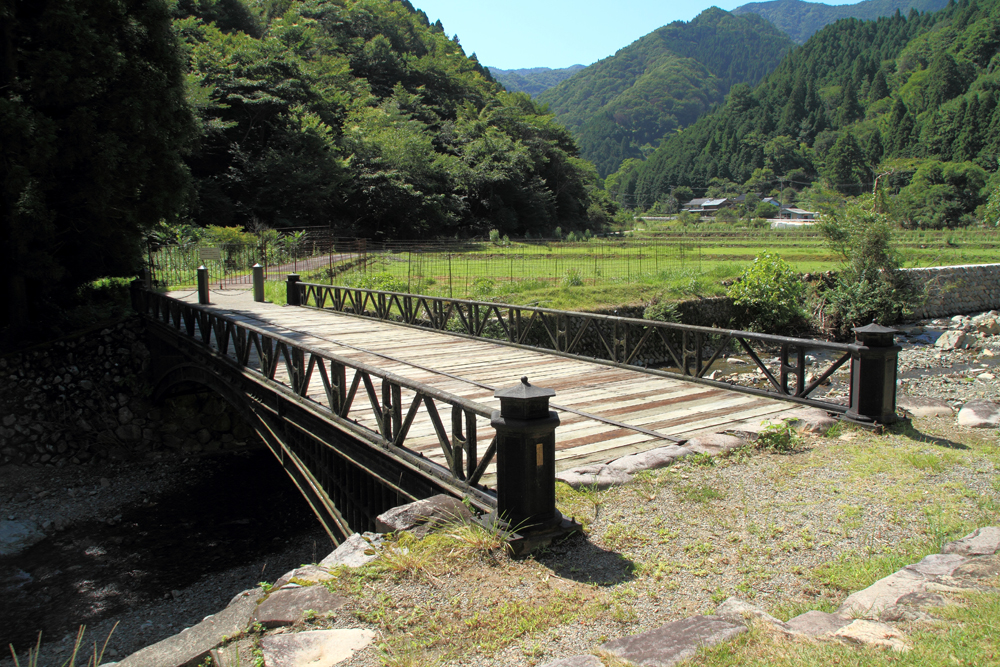 Designated an important Japanese cultural property, the Mikobata Cast Iron Bridge is one of five cast iron bridges created for carrying ore mined at the Mikobata Mine to the Ikuno smeltery. The bridge was constructed in 1885, making it Japan's oldest cast iron bridge and third-oldest iron bridge.
1637-7 Sano-aza Mizuta, Asago City 379-3453
3. Former Mikobata Mine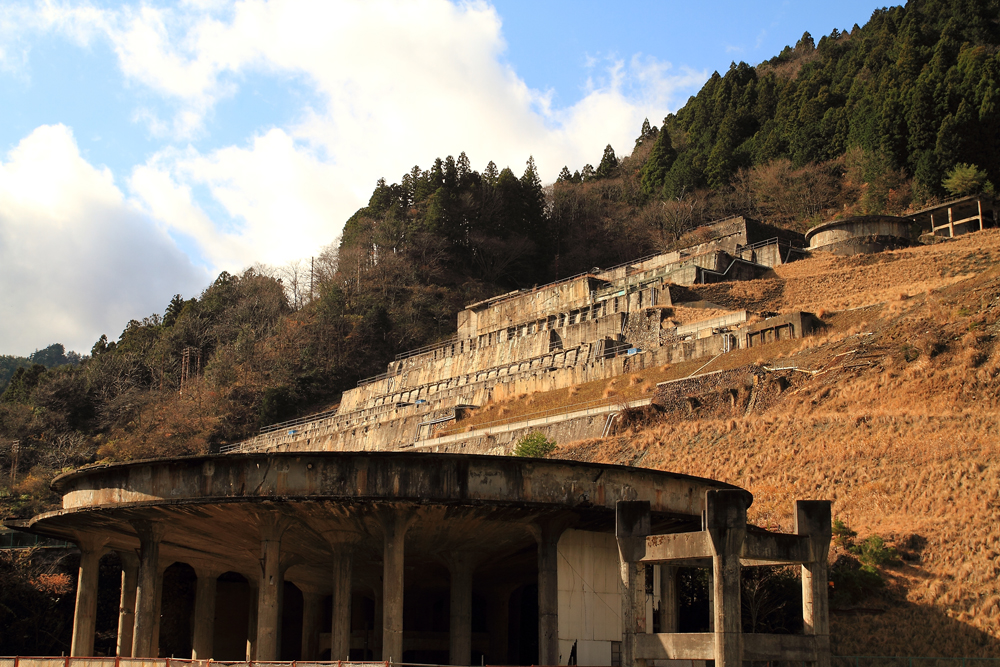 Following the rediscovery of silver veins in 1878, the Mikobata Mine operated as a branch of the Ikuno Silver Mine. The mine eventually closed in 1917. Afterwards, the mine became a processing center for ore mined at Akenobe Mine, becoming East Asia's largest processing center at its peak.
Asago Tourist Association, 1826-1 Sano, Asago City 379-3453 / Tel.: +81-79-677-2111 (weekdays)
[Mikobata Senkoujyo Tourist Association] Tel.: +81-79-677-1717 (Saturdays, Sundays, and holidays)
URL: http://mikobata.com/
4. Lunch at Oak-yard Cafe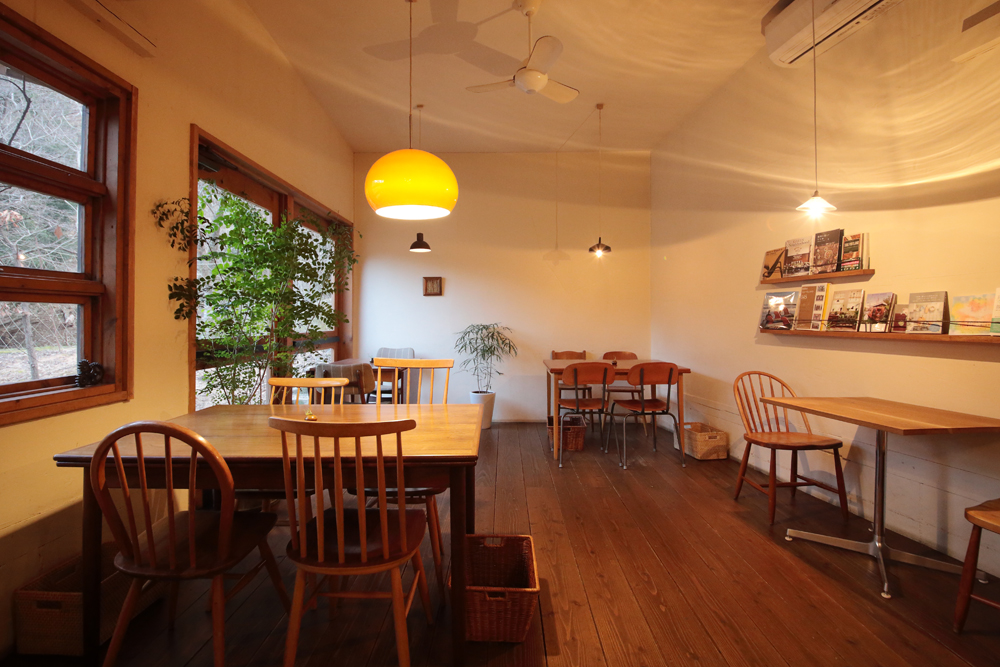 The Scandinavian design of the Oak-yard home cafe allows diners to enjoy the natural warmth of the wood construction. Take a short drive into a world of wonder in a cafe where mountain time flows slowly by.
998 Sano, Asago City 379-3453 / Tel.: +81-79-677-2333
Hours: 10:00 am – 5:30 pm / Closed: Thursdays
URL: https://www.facebook.com/oak.yardd
5. Akenobe Mine Exploration Tunnel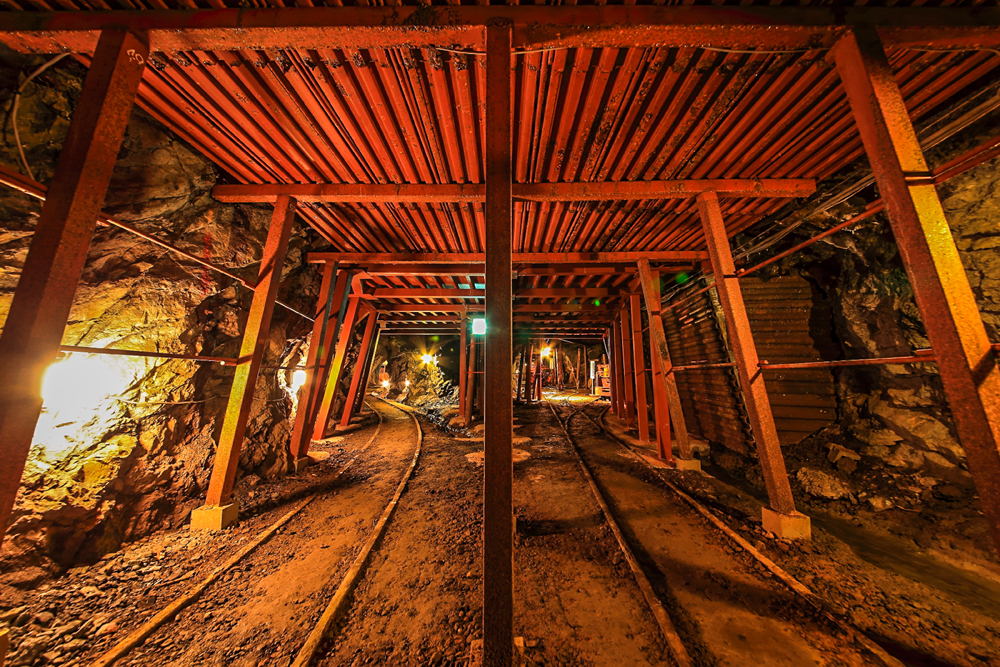 Legend has it that copper from the historic Akenobe Mine in casting the great Buddha at Nara's Todai-ji Temple. Following the discovery of tin ore at the mine in 1909, Akenobe became the leading tin mine in Japan. The mine was closed in 1987 but remains partially open to the public as an "exploration tunnel" where visitors can see the mine's exposed rock face as well as rock drills and other informative sights. (Reservations required at least 3 days in advance.)
Oya-cho Akenobe, Yabu City 667-0436 / Tel.: +81-79-668-0258
URL: http://www.akenobe-kozan.com/ 
6. One-Yen Train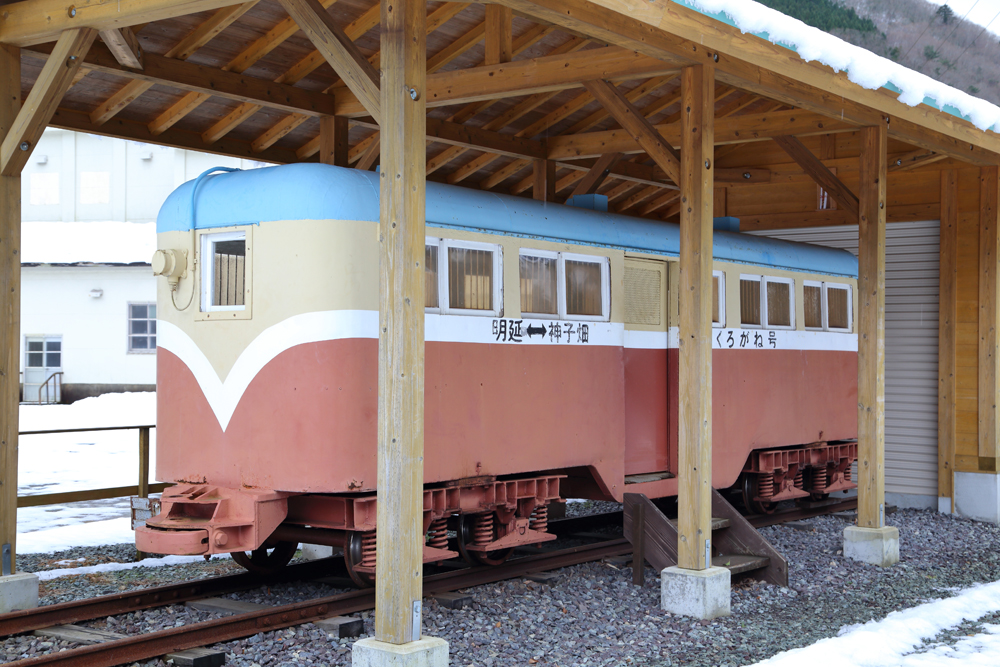 The name is derived from the fare for service aboard the train, which was only 1 yen. Volunteers undertake operation of the One-Yen Train once a month from April to November with the goal of reviving operation of the historic train.
Oya-cho Akenobe, Yabu City 667-0436 (Akenobe Rest House Plaza)
Tel.: +81-79-668-0258 (Akenobe Shizen School)
7. Hokusei Company Housing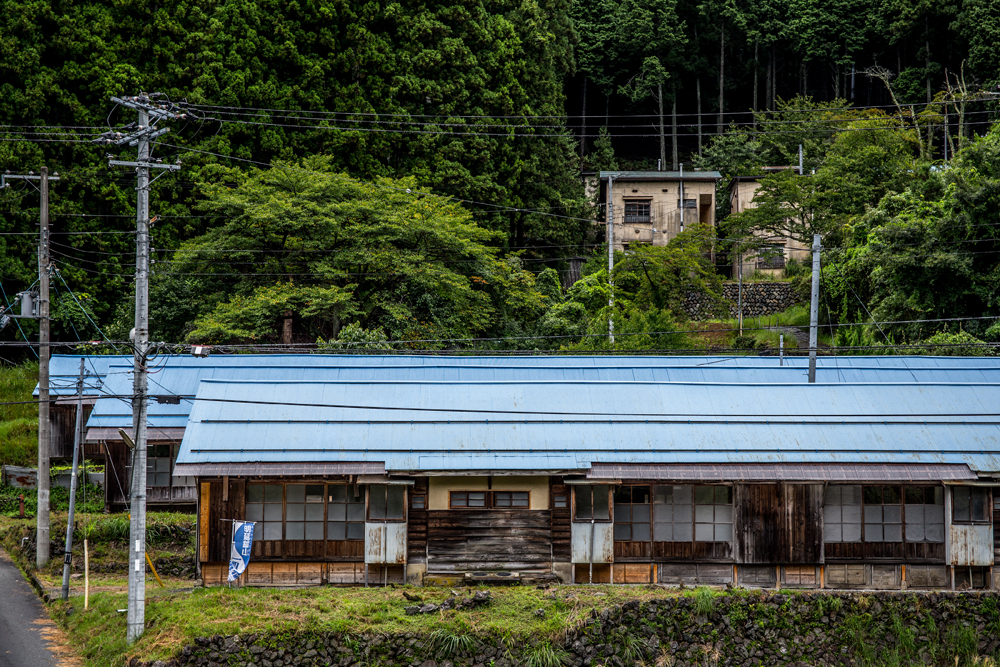 In the early Showa era, company housing for mine workers was built in various locations.The Hokusei Company Housing was one such housing complex built in the Hokusei area.The company housing for mine workers was built in various locations in the early Showa era, when the mine was a hub of activity.Although most of the housing has been torn down, the remaining Hokusei Company Housing—also called Nagaya (a traditional Japanese tenement house)—was constructed around 1936 as housing for mine employees in the western part of the complex.
Oya-cho Akenobe, Yabu City 667-0436
Tel.: +81-79-669-0120 ("Koseki no Michi" Akenobe Executive Secretary Office)